If you want to know about the sliding shower doors advantage and disadvantage, you will need to know about shower doors. Different shower doors come with different pros and cons. You will check out the list of shower doors type to get a crystal and clear idea.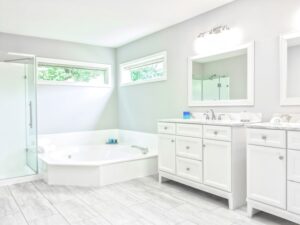 Today, I am going to share with you 2 different shower doors and their pros and cons section. After reading this content top to bottom, you will easily clear your confusion and capable of knowing which shower door is suitable for you and why you need to avoid the shower doors.
So, let's get started with the content here with the most updated information.
Pros and Cons Two Shower Doors[And Others To Compare]
You may know that the sliding door and pivot shower doors are not the same, and their facility is also different. But you may compare and easily get the best idea. So, in this article, I will share with you 2 different showers besides sliding doors.
1. Sliding Doors
Generally, a sliding door is easily moving side to side run along with the track. The sliding shower door is also known as a bypass shower door. In the below section, you will get the advantage and disadvantages of this shower door.
Advantages (Pros)
This type of shower door doesn't take up much space in your bathroom.
They are smoothly open, and that's why it does not occur in an accident.
It is very helpful for extra stability when using a shower tub and shower head.
Sliding shower doors are easy to assemble and provide durable support.
Attach a handle to run the door without any noise issues.
Disadvantage (Cons)
The sliding shower door needs carefully maintain all of the time.
It is not easy to clean frequently.
The door traps water.
Sometimes it leads to mold and mildew issues.
2. Hinges Shower Door
The hinges shower door is also known as a pivot shower door. You may already understand that a hinges shower door is used hinges for the side and swing outwards to open. Some of the shower doors come with frameless options and are installed with the wall.
Advantage (Pros)
With hinges door open.
Provide you a large opening entry facility.
The door is also suitable for a person who has mobility problems.
The frameless option minimizes the bracket and tracks option.
Made your bathroom likes a seamless look.
This type of door is easy to clean without any hassles.
Unlike the sliding door, it prevents mold, mildew, and others.
Disadvantage (Cons)
This type of shower door takes a lot of space for opening.
It is not suitable for small bathrooms.
The water may drop the floor, which made the bathroom slippy.
Sliding doors and With Others Comparing Result
Pivot or sliding doors are the same thing. No doubt, a sliding door is much better than some other shower doors. But different people need different shower doors. If you think that you need a shower door for easy mobility, you will check out the hinges shower door, which already describes the upper sections.
Overall, a sliding shower door is one of the best choices for people who need hassle-free assembly and long-time support. I hope you understand why and where you need to use the sliding door and its advantage or disadvantage sections.
FAQs (Frequently Ask and Question)
Q: Are sliding shower doors outdated?
A: I think not so. So many people install the sliding door for their tiny space. A sliding door comes with several quality features that provide its user peach of mind service. So, it is still popular like previous.
Q: Who makes the best shower doors?
A: There are couples of popular brand on the market, which makes high-quality shower doors. Basco, Dreamlines, and some other brands are now popular on the market to provide the best service.
Q: Do frameless shower doors leak?
A: No, a frameless is not a leak. They come with a small gap of hinges and side on the door. The water is easily passed, and the door is easily working without any leakage issues.
Final Verdict
I hope that you already clear your confusion about this sliding shower door everything good or bad. I tried to apply for another shower door, which is also very popular, and compare it with others. I hope that the content provides you enough value. If you have any questions or suggestions, let me know in the below comment box.